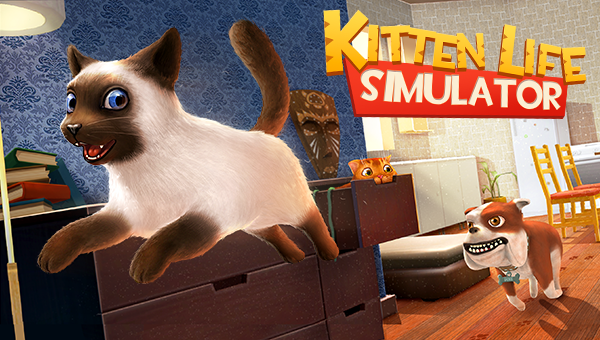 Cat home life is rather rich. While the masters are busy with their domestic duties, its high time to…smash, destroy, spoil, disturb, run, jump, catch! Naughty cats always find new attractions.

Play on different locations with special level sets. Each level contains several missions. Pass them all to get to the next level.





▶︎9 lovely cat breeds
Each of them has its own, unique character. Choose a favorite fluffy.

▶︎Special cat missions
Scratch & pee, hunt the mice, disturb old Duke... New interactions are waiting for you on each level!

▶︎3 locations for exploring and playing
Visit flats and courtyard. Find different ways to entertain yourself!





▶︎Crazy Cat-Dog chases
What about fighting with Duke? Run off if you can, or use a whistle to throw the dog off.

▶︎Cute pets clothing
Dress up your cats and make them really fashionable. Try on shirts, hats, collars and lots of other units.

▶︎Cat mini-games
Enjoy mice race, shell game, and cat fights. Gamble and earn cat more coins.

These cats are always ready to spoil the life of humans and other pets.





Come to the cat world, full of places to explore, breathtaking missions, special cat games, chases, pranks, and fun!